Subhadra Haran Parva can be regarded to be the most important chapter of not only Adi Parva book, but of the entire Mahabharata. This is the chapter for which the Pandava Prince, Abhimanyu was born and that was the hero, whose son became the first ruler of Bharat (India 3000 BC) of Kali Yuga. In fact, the reason of Arjuna Vanavas can also be identified well from here. Even the great purpose of intervention of Narada muni to instigate Pandavas on making rule of Draupadi sharing can even be partially explored from henceforth historical episodes. This chapter encloses coming of Arjuna to Dwarka, his residing at Prabhasa, Subhadra Haran, Krishna's suggestion to Yadavas and acceptance of Arjuna.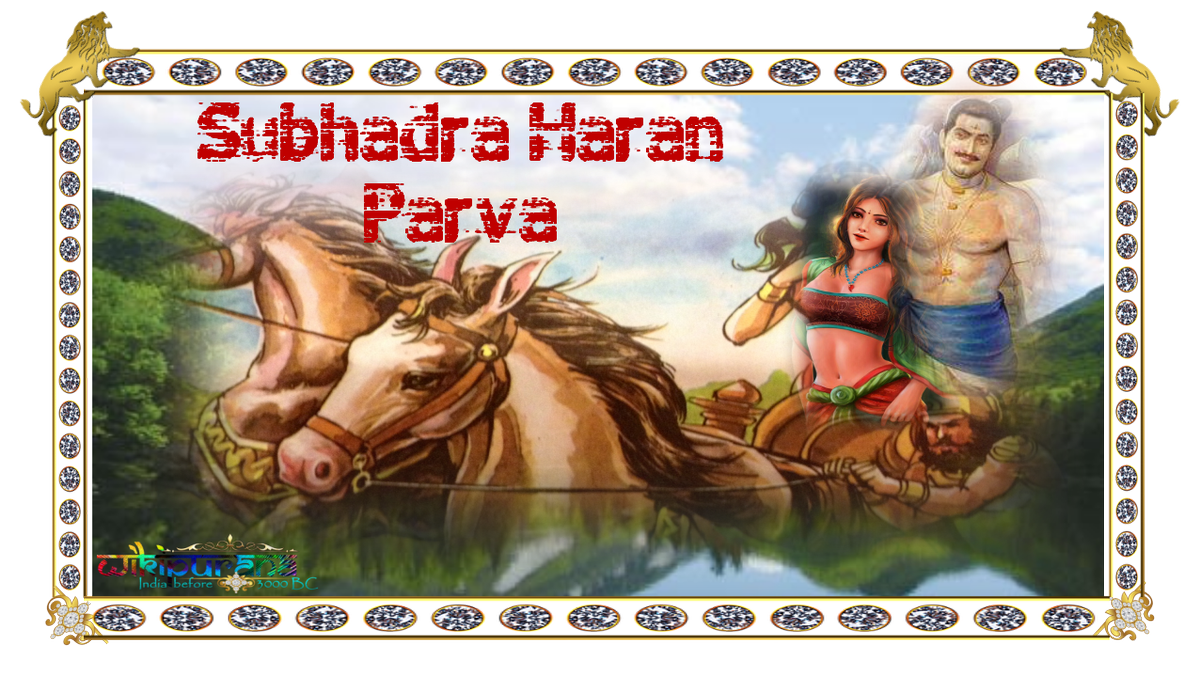 Glance of Subhadra in Subhadra Haran parva
Arjuna while travelling west ultimately reaches Prabhas, the great spot of Pilgrimage in the west banks of Bharat. Krishna, the inseparable part of Arjuna's Soul, knowing that Dhananjaya reached Prabhas, came fast there and received him to Dwarka. At Dwarka, that time, the Raivataka Utsav was carried out. All families of Vrishnis, Andhakas and entire Yadava Dynasty was assembled there for the festival. In that crowd of stars among the Yadavas, Arjuna finds a glance of Subhadra and immediately feels the urge to make her his own. It took no time for Krishna to identify that Subhadra's glance was also speaking the same word. So he appraised the feel of Falguna and introduced her as his sister.
Krishna's Suggestion on Subhadra Haran
Knowing by mind the wish of his brother, who was inclined to Duryodhana for his power, Krishna suggested Arjuna to abduct Subhadra with style. He tells him that no one knows what a woman is looking for. So, it is not good to wait for her choice. Kshatriya rule states abducting loved one is quite acknowledgeable. Hence, Falguna must abduct Subhadra next day in Subhadra Haran parva, while she goes for Raivataka and marry him. Getting the counsel of Krishna, the soul of Partha, Dhananjaya noticed Yudhisthira the elder, with a speedy messenger. Yudhisthira, finding the spotless relation with Krishna and Yadava, agreed to the marriage in Subhadra Haran Parva. And on the next day, Jishnu abducted Subhadra before her maids and went towards Indraprastha.
Yadavas accepts Subhadra Haran
The maids of Subhadra after seeing Subhadra Haran by Falguna, rushed to the court of Sudharma and then informs everything. The Yadavas soon assembled and knowing the abduction of their Daughter, willed to rush to the spot. While there was a turmoil among the tigers among men, the Vrishnis, Andhakas and all Yadavas, Balaram, the brother of Krishna stopped everyone and asked – Why thou are so much busy, while this Keshav is sitting tight with no tension in his face? It is wiser to know what this Achyut is willing at his heart, as nothing is possible unless he wishes.
All the yadavas enquired then the wish of Krishna and Krishna pleasingly says this words of high wisdom in Subhadra Haran Parva. He said, he finds no sin in what Arjuna have done. He must not be liking that a woman, avoiding all her shy, must wait for the Self-choice. He even don't think that someone would present her to him, as if she is some material gift. Hence, he has abducted Subhadra, to show his respect for her and her dynasty. Abduction of Arjuna shows that he respects the class of Yadavas and their might. Hence, for this act of Jishnu, the entire dynasty of Yadavas faces no fault of cowardice.
Krishna continues in Subhadra Haran Parva, on the other hand, who can be a better husband to Subhadra than someone like Arjuna, of great might, honesty and attachment to righteousness. What better dynasty can be suitable for Subhadra than Bharata Dynasty, the dynasty of Ganga and Shantanu? Hence, it is now the duty to bring Arjuna and Subhadra back to Dwarka, with speedy steeds. Otherwise, that will be a reason of defame for Yadavas and their might.
Agreed to the pleasing words of Achyut, the tigers among men, those Yadava Heroes rushed towards Arjuna and brought back him from the way in Subhadra Haran Parva. Marriage of Subhadra and Arjuna was arranged then and Arjuna stayed there for a full one year, till the end of his exile phase of 12 years in Arjuna Vanavs Parva.
Gayapokshyam - Krishna Arjuna Fight - An Interpolated Story
There is a story, according to a Tamil Play, called Gayopakhyam, within this one year phase, while Arjuna resided at Dwarka in Subhadra Haran parva. The story has no mention in the original scripts of Mahabharata or Bharata or Jaya or even in the Bhagabhat Purana. Hence, that is surely an Interpolation of original Mahabharata and here again, Wikipedia, by publishing the story in Arjuna page, shows how weak it is in translating Indian History 3000 BC. Only collecting references cannot correctly place Indian History 3000 BC. This must be understood by the renowned Site and must stop public editing tool immediately to stop publishing rubbish and misguiding readers.
According to the story, A Gandharva King named Gaya, was passing through the sky path and he spitted from top, that reached the joined hands of Krishna, who was doing Surya Pranam that time. Krishna takes vow to kill him. And Gaya took refuge in Partha. Both Krishna and Partha adamant in their vows, to kill and to protect respectively, engages in a fight and that transformed to a dangerous level. The battle became such that, Mahadev had to reach them and make them silent.
The story is just a fun by those, who thinks Mahabharata is just a story and makes play with that. It has no connection with Subhadra Haran parva or with Indian History 3000 BC. The story narrates use of Sudarshan Chakra by Krishna in the war. This proofs that the story is a fake and interpolated one, since Krishna received the Sudarshan Chakra in the next episode of Khandav Dahan.
Leave a comment