Mahabharata is the Indian History of 3000 BC and beyond. Fertility Treatment during that phase was of advanced level and its level was so high that even the ever boasting medical science of today cannot touch its summit. One such example is definitely the birth of Kauravas by Vyasa. The most amazing fact about this Fertility Treatment is its realistic overview and the least use of any technology. Medical science is nothing about fixing things, that are impossible, through artificial means, as is believed today. Rather, it is the process to understand things laid out in nature and follow that process artificially. The Fertility Treatment observed by Vyasa during birth of Kauravas is exactly like that.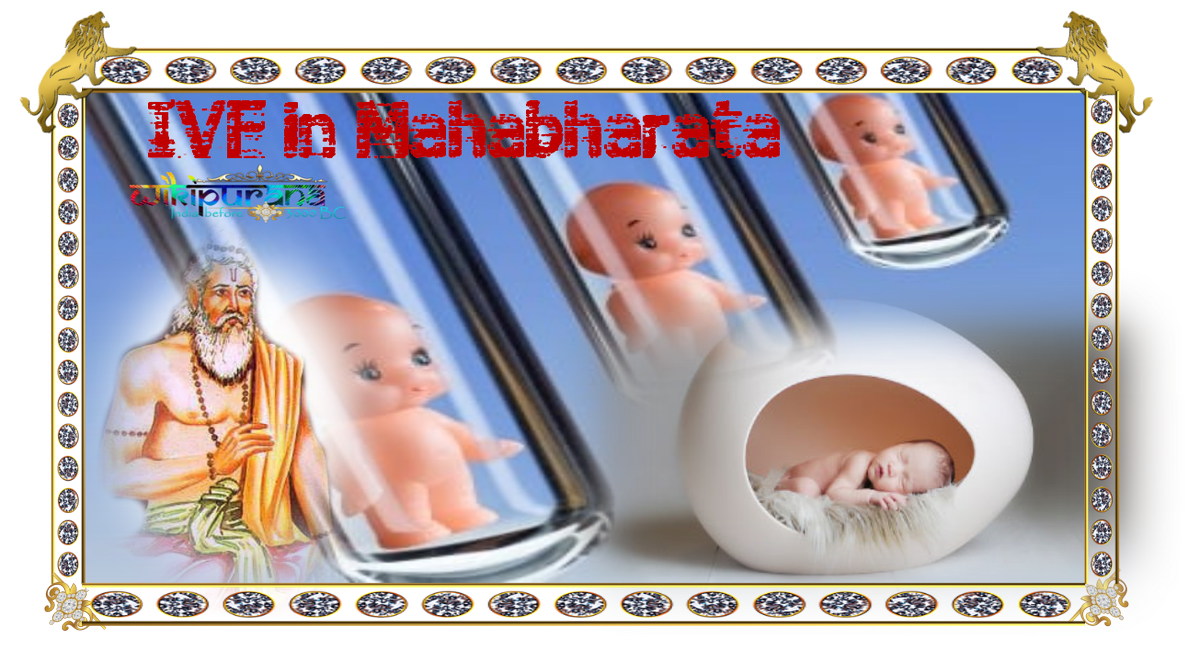 Mahabharata Science Applied by Vyasa
According to the Historical Story, Vyasa reaches Gandhari, who gave birth to a lump of flesh, instead of a baby after 18 months of conceiving. Naturally, Gandhari was very much depressed with the event, but Vyasa soon realized that the lump of flesh is nothing, but a semi-fertilized embryo. The embryo has to be fertilized artificially and there he would need Fertility Treatment. Understanding the embryo and its content, He cuts the embryo into 101 pieces, ensuring every embryo has the life in it. After, cutting them into pieces, he orders for 101 earthen pots, sterilized well, ensuring no germs are carried to the babies.
He fills each of the pots with clarified butter and then absorbs each pieces into each pots. He orders to keep them in cool dark place for two years and after two years, the first of the baby, Duryodhana was born of it. For details of the story, the Mahabharata episode of Kaurava Birth in Adi parva can be referred.
Understanding the Concept of Mahabharata Science
Understanding this high level medical science applied during Mahabharata, might be felt to be very tough. But actually, the thing is just opposite. A very simple natural phenomenon has just been imitated here by Vyasa only. As we disclose the concept applied, you will feel – is medical science actually so simple? Just follow the understanding step by step.
Before going into the Fertility Treatment applied by Vyasa, start with a natural phenomenon – how a chick-hen is borne out of an egg. The embryo there remains absorbed within pure protein (White part of egg) and remains in the dark and cool shell (egg coat). The embryo receives necessary food from the protein and also receives vitamins from the egg yolk to grow as a baby.
Vyasa applied this very natural science in his Fertility Treatment. He kept the embryos in earthen pots (the dark cool shell). He then pours clarified butter, which is pure protein and vitamin mixed supplement. The embryos received their necessary protein and vitamin from that supplement and ultimately grew to babies.
Isn't the science simple straight forward and realistic? Thus was the Fertility Treatment and they were so much high yielding with great success those days, only because technology use was nominal and process was made natural.
Mahabharata Science and Modern Artificial Fertilization Process - The Difference
By now you might have understood why Fertility Treatment was much more ahead than us. The simple reason was the cut short of the unnecessary medications and unnecessary technology use. Modern medical science application in the form of Fertility Treatment is also dedicated to bring out babies, where impossibility is more, but use of technology and automation is so much that the process becomes unnecessarily complicated. Most of the time, IVF is used on the women who have lesser fertility chances. Mahabharata, Ramayana and Puranas also dealt with such cases, but detailed science in the process has not been disclosed. Vyasa narrated Mahabharata in detail and hence everything has been detailed out there.
Fertility Treatment applied by Vyasa during birth of Kauravas, is a 10% success ratio holder in these days. That process is also included in artificial fertilization process, where a 75% developed baby is brought out from Mother's womb and he/she is kept in incubator with lots of automations to finally prepare him/her as a baby. There are three major discrepancies in modern medical science and the perfect solutions to them using Mahabharata science applied by Vyasa are as follows:
The baby hence developed, due to lots of medicines and lots of automations, develops some negative symptoms in body. Those symptoms are common among 99% of the babies. So, modern medical science treats them to be unavoidable.
The second discrepancy lies in the percentage of maturity, when the baby is brought out from mother's womb. It is 75% of the entire process. Hence, if a mother is unable to carry her womb till that phase, she is not going to be mother by any means. The Fertility Treatment applied by Vyasa supports his artificial fertilization process since the babies are in embryonic stage. Hence, development of the babies is not more than 15%. Thus the difference is clear -75% and 15%.
Finally, the discrepancy that the parents face now is related to the huge cost of the process. High level equipments, electricity cost to warm up the babies in incubator and unnecessary medicinal costs to activate the body systems of the bay artificially are the reason of this cost.
Urge to the Sovereign Society
 Just give a look at the Fertility Treatment applied by Vyasa. The warmth of mother's womb is very much there in the womb of the earth. Hence he keeps the pots underground. This gave the warmth, the darkness and calmness, that a baby gets in his/her mother's womb, altogether.  Clarified butter acts as the pure protein and vitamin supplement to ensure growth of the baby. Finally, earthen pot itself acts as the mineral supplement to the baby. Hence everything is solved with a solution that can be prepared even at home.
Does that cost much? Hence, if modern science, today's administration and medical practitioners really are looking to serve the women, who are fond to be mother, they must open up their eyes and mind to the ancient practices. Indian history of Ancient times 3000 BC and beyond, has such ingredients including Fertility Treatment that can turn the world of now upside down.
Leave a comment